Dear Friend,
Koko celebrates her 43rd birthday on July 4, 2014 ...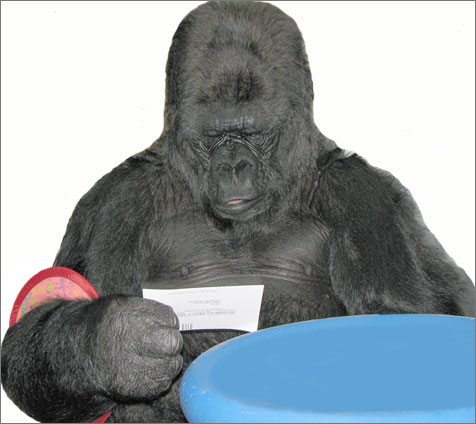 But, If Koko had her way, she'd celebrate her birthday every day! She loves all the traditions of a birthday celebration — a party, colorful decorations, interesting foods and drinks, opening cards and presents and lots of fun surprises.
She especially enjoys looking at her birthday mail and having her birthday messages read to her.
So please send Koko a Birthday e-Card
with your own personal message of inspiration to her!
Koko understands that free-living gorillas and other great apes are critically endangered and needs to know caring people like you are willing to, as she signs it here, be "polite" to gorillas.
She understands that they need our help!
So when you send Koko's 43rd birthday e-Card, I hope you'll also include a special gift, a generous donation, if you possibly can.
Your generosity will make a powerful impact helping protect our remarkable gorilla friends, and will make Koko's birthday a tremendous success. Your birthday gift will help us:
| | |
| --- | --- |
| | Expand and improve Koko's support system — and Ndume's, too — ensuring first-class care for our beloved gorilla friends. |
| | |
| | Enhance our outreach programs to convey Koko's message of interspecies empathy to the widest possible audience. |
| | |
| | Continue our vital research through direct communication with our fellow great apes. We have so much to learn from each other. And the conversation is just beginning! |

So please send your birthday e-card to Koko today along with the most generous gift you can.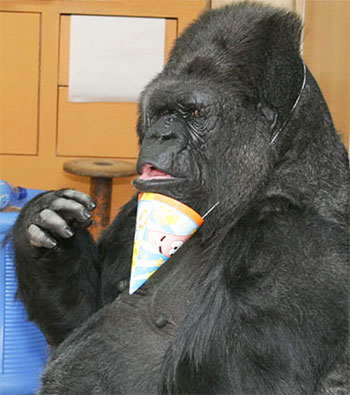 Koko will love hearing from you.
Thank you!
With heartfelt gratitude,





Dr. Penny Patterson
President and Director of Research
PS: You're invited to share in the fun by viewing the photos and videos we take during Koko's birthday celebration. We'll send you an email when they're available to view on our new website, koko.org.
Thanks for making Koko's big day (and life) extra special through your generous support!