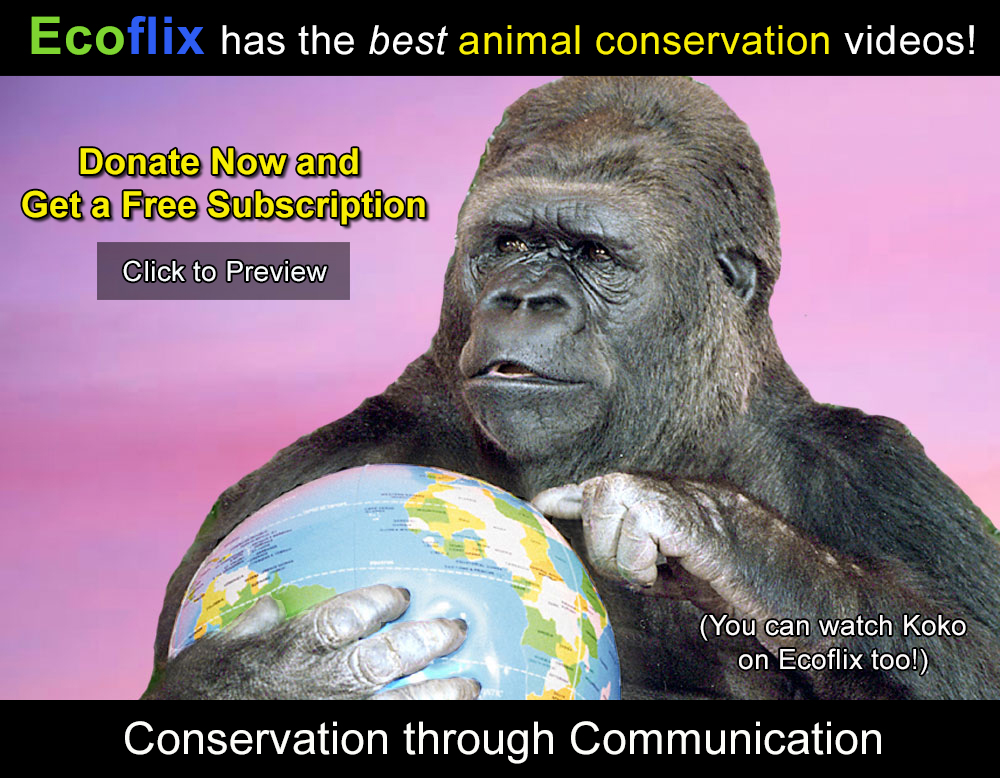 Dear Friend,
This is an exciting moment in our history: The Gorilla Foundation is now partnering with the Ecoflix Foundation. Ecoflix was founded to help support partner NGOs (Non-Governmental Organizations) like us. They produce and present nothing but inspiring, uplifting videos about animals and the planet, with no commercials of any kind. Plus, they offer annual subscriptions for only $3.99 a month, which are tax deductible.
Ecoflix is the first nonprofit streaming platform dedicated to saving animals and the planet, and their channel includes our original Koko content! This presents us with two new major opportunities:
First, we now have a worldwide platform to showcase our work and to help educate people about the serious plight of so many endangered animal species, including gorillas, which is Koko's legacy.
And second, Ecoflix offers us a remarkable and unique opportunity to raise the funds needed to carry out our key mission-driven programs — such as KokoArc, which aims to digitize, analyze and share thousands of hours of interspecies communication research footage with other scientists, students, and the general public.
When you subscribe to Ecoflix for a year (for $47.88) and select The Gorilla Foundation as your chosen NGO (through the link below), Ecoflix will donate 100% of your subscription dollars to The Gorilla Foundation! This will create a virtuous cycle, as we'll be able to share much of our KokoArc video footage via Ecoflix, which will in turn drive the growth of both Ecoflix and The Gorilla Foundation and hence lead to more conservation results.
So, I urgently request your assistance — by spending $3.99 per month you will receive amazing and beautiful video programming about animals and the planet from around the world — including our own Koko content.
Subscribe to Ecoflix today, and support The Gorilla Foundation — and Koko's species — in the process (a win-win), by simply clicking on this link:

Thank you so much!
Sincerely yours,