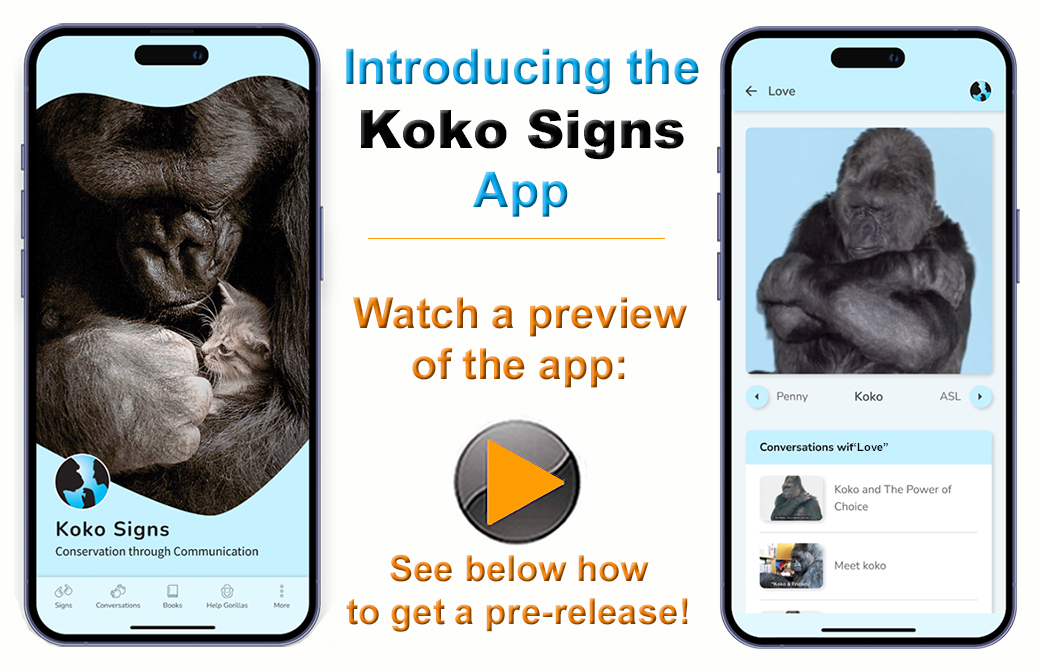 Dear Friend,
We've got great news!
We are excited to announce the brand new Koko Signs app! This has been a passion project for the Koko team for a while now. After partnering with the incredible team at Arctouch it is finally ready.
Koko's legacy is an enduring testament to not only what we can teach these beautiful creatures but what we can learn from them. The new Koko Signs app is here to continue that legacy for generations to come.
Please watch the video for a glimpse of the app.
Thanks to you, we have raised enough money to complete the development of the app. This includes:
a) Signs — learning Koko's favorite signs directly from Koko (and Penny)
b) Conversations — video examples of Koko signing with Penny and celebrity friends
c) Books — Koko's best sellers, free, with links from sign words to sign demo videos
d) KokoCasts — a Koko-inspired video podcast on conservation through communication, and
e) KokoGrams — a new way to communicate with your friends and family, feature sign-language video messages from you and Koko.
However we need to raise additional funds to maintain the app for the first year, during which we plan to rapidly expand its capabilities, keep it bug-free, and respond to your user feedback.
As a special incentive, we are offering a pre-release of the Koko Signs app to everyone who makes a donation to The Gorilla Foundation today of $25 or more!

Donate now and we'll send you a link in advance of the general release of the Koko Signs app (which is planned for October) to be the first to sample the new app. You will also be a part of a select group of people whose feedback we'll collect and incorporate in the next update, to make the app better for everyone.
Thank you for helping us get this far — we are just a few months a way from making the "Koko Effect" (interspecies communication and empathy) just a few clicks away for anyone with a cell phone, from the US to Africa and everywhere in between — with your support!
Wishing you Koko-Love,