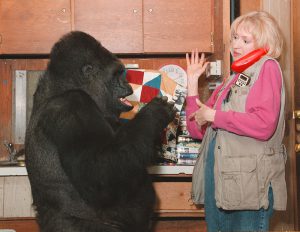 The Gorilla Foundation (Koko.org) has pioneered Interspecies Communication (IC) with gorillas for over 4 decades.  Through an integrated process of research and gorilla care, we have worked with and cared for 3 western lowland gorillas: Koko, Michael and Ndume. 
The focus has been on using sign language as a primary tool, as it is the most natural way for humans and gorillas to communicate, given their intrinsic gestural capabilities.  We have used IC to understand the great ape mind, and applied it to both improving their care in captivity and increasing empathy worldwide to spare them from extinction.  
However, there is still a long way to go — captive gorillas in zoos are still not permitted to learn or use sign language with their caregivers or the public, and not enough people in Africa are aware of the profound implications of interspecies communication with great apes.  The Gorilla Foundation aims to close this gap and bring interspecies communication to scale.