The Gorilla Foundation is developing a powerful new "Koko App" which will allow us to share both Koko's sign language, and what we've learned about gorillas during the past 45 years, with both humans — and other great apes.
The App features Koko demonstrating many of the ASL signs she knows and uses, in short charismatic video snippets, plus longer video clips and stories, demonstrating how she uses sign language to communicate with her caregivers in various situations — and serving as a window in to the "gorilla mind."
While it will be the first App that enables users to learn sign language from a gorilla (Koko), it will also feature Koko's primary caregiver/mentor, Dr. Penny Patterson, demonstrating if, when and how Koko modifies the signs from standard ASL (American Sign Language), in cases where that could possibly be an issue.
The main goals of the app are to: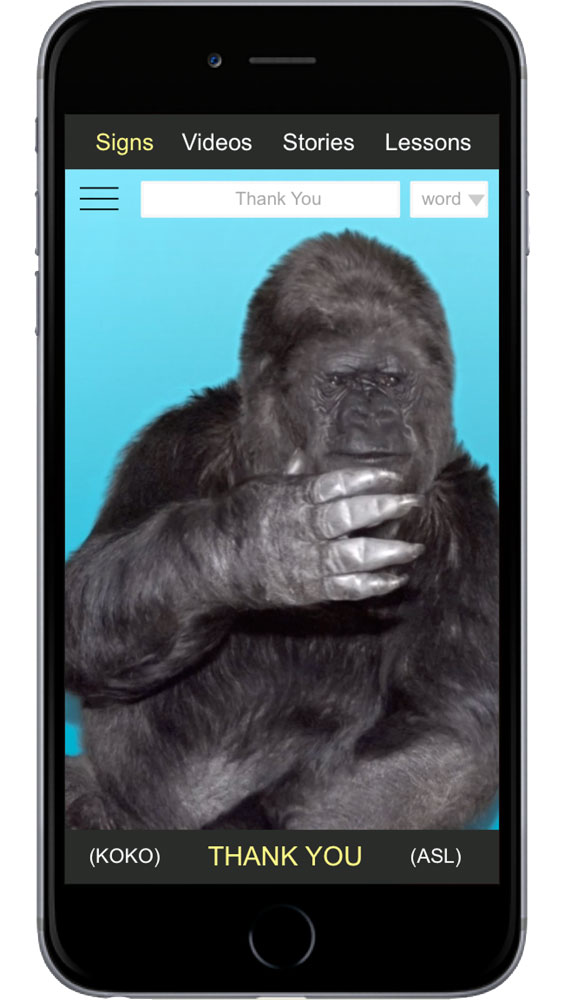 1) Motivate as many people as possible to learn "basic" sign language (enough to understand Koko and use in parts of everyday conversation)
2) Help gorilla caregivers in zoos and sanctuaries teach a small set of "care-based" signs to captive gorillas, to improve their care (more sharing of needs and wants); and to encourage them to learn some gorilla natural gestures.
3) Enable visitors to zoos and sanctuaries to experience interspecies communication ("talking with the animals") first-hand, and to mutually enrich their interactions
4) Inspire people everywhere (from kids to adults, and from the US to Africa) to save gorillas from extinction — the rapid expansion of cell phone use worldwide makes this possible for the first time.
The benefits range from revitalizing gorilla conservation efforts to improving the lives of great apes in captivity to creating unique educational opportunities for children of all ages.
And one of the greatest benefits is to Koko herself — by expanding the number of gorillas who can communicate clearly with humans (via sign language), Koko will no longer be in such demand for personal visits, and instead of being the only "speaking" Ambassador for her species, the App will foster a virtual "State Department" of gorilla ambassadors, to help maximize their chances for survival in the wild, and their well-being in captivity..
Imagine what it would be like to visit a zoo with your smart phone, look up which signs the resident gorillas (or other great apes) have learned, and exactly how they perform these signs, and then either have a conversation with a great ape, or observe (and understand) one.
The possibilities for improving interspecies relations are endless, once 2-way communication becomes as easy as accessing your cell phone to help you translate and record the results of your interaction.
Current Status:
A prototype of the Koko App has been developed using FileMaker Pro/Go, and is evolving rapidly. The biggest challenges are: i) to find, or create, a sufficient number of clear video clips of Koko demonstrating the signs, and ii) to determine how many signs, videos and stories to include on board a single app, so that connecting to the internet is not always required. We're also working on some cool navigation features, to make it easy to move between signs and stories — for example to view interesting multi-sign videos featuring a particular sign, or to look up selected signs while watching a video clip or story. We're also planning to have local schools (teachers and students) help us evaluate the prototype, before we convert it to a product.
How You Can Help:
We hope you will support our efforts to complete the Koko App in 2018. Please become a Gorilla Foundation member — or continue to make regular donations if you're already a member — and stay tuned for regular updates on the status of the Koko App (and when it's available to download or review), by subscribing to KokoMail.