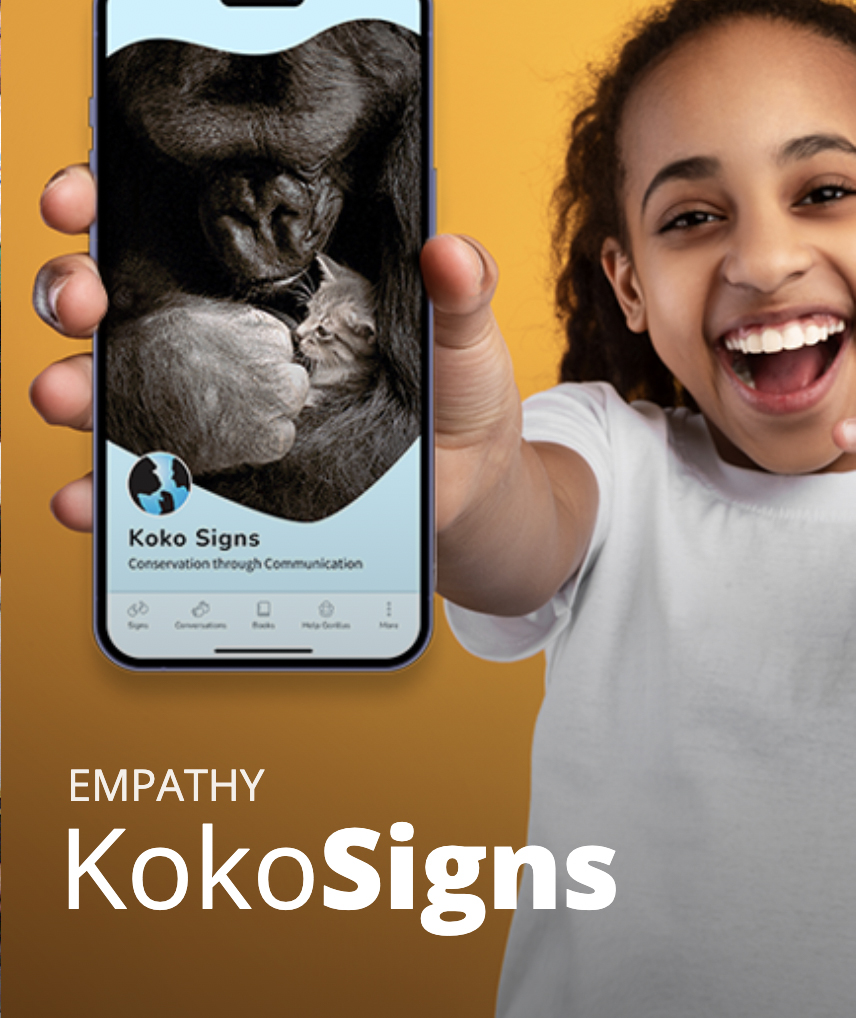 Goals
1) Develop a cell phone app that helps people of all ages learn to sign with Koko
2) Teach at least 100 of Koko's favorite signs (both ASL and natural gestures) demonstrated by Koko herself
3) Enable people to learn all 1000+ of Koko's signs with help from Dr. Penny Patterson
4) Include real-world examples of Koko interacting with her caregivers and other animals, with and without sign language subtitles (for educational purposes)
5) Enable the general public to help us translate Koko's research videos by looking the signs up by description (hand configuration, location, and motion)
6) Provide a tool for the public to help translate gorilla natural gestures by uploading videos obtained while visiting zoos (or eco-tours in Africa)
Why is this Important?
All gorillas use gestures to communicate.  Koko just happened to be taught one of our gestural systems — American Sign Language (ASL).   Thus, the KokoSigns app will make it possible for more captive gorillas to  benefit from 2-way communication — by people decoding gorilla natural gestures, as well as learning and sharing some basic ASL.  It also teaches a valuable language to humans of all ages and nationalities — one that can transcend current language barriers, and has the potential to facilitate communication between hearing and deaf communities.  Communication fosters empathy, and empathy is a pre-requisite for both true conservation and improved captive care.
Progress
1)  Designed the initial user-interface (UI) for the KokoApp, which features Signs, Videos, Books and Gorillas as the main menu tabs.
2) Identified a world-class app development company, who specializes in crowd-sourcing additional content, and open-ended app development and enhancement.
Plans
1) Select one app development partner and let them refine our design [ ArcTouch ]
2) Create KokoSigns version 1 [July 2023]
3) Release KokoApp version 1 [September 2023]
4) Add more signs and videos to create version 2 [December 2023]
5) Explore the use of crowd-sourcing to help translate Koko's and Michael's sign-language video archive [December 2024]
6) Explore the use of crowd-sourcing and AI to help translate  the natural gestures gorillas are already using now at zoos [December 2024]