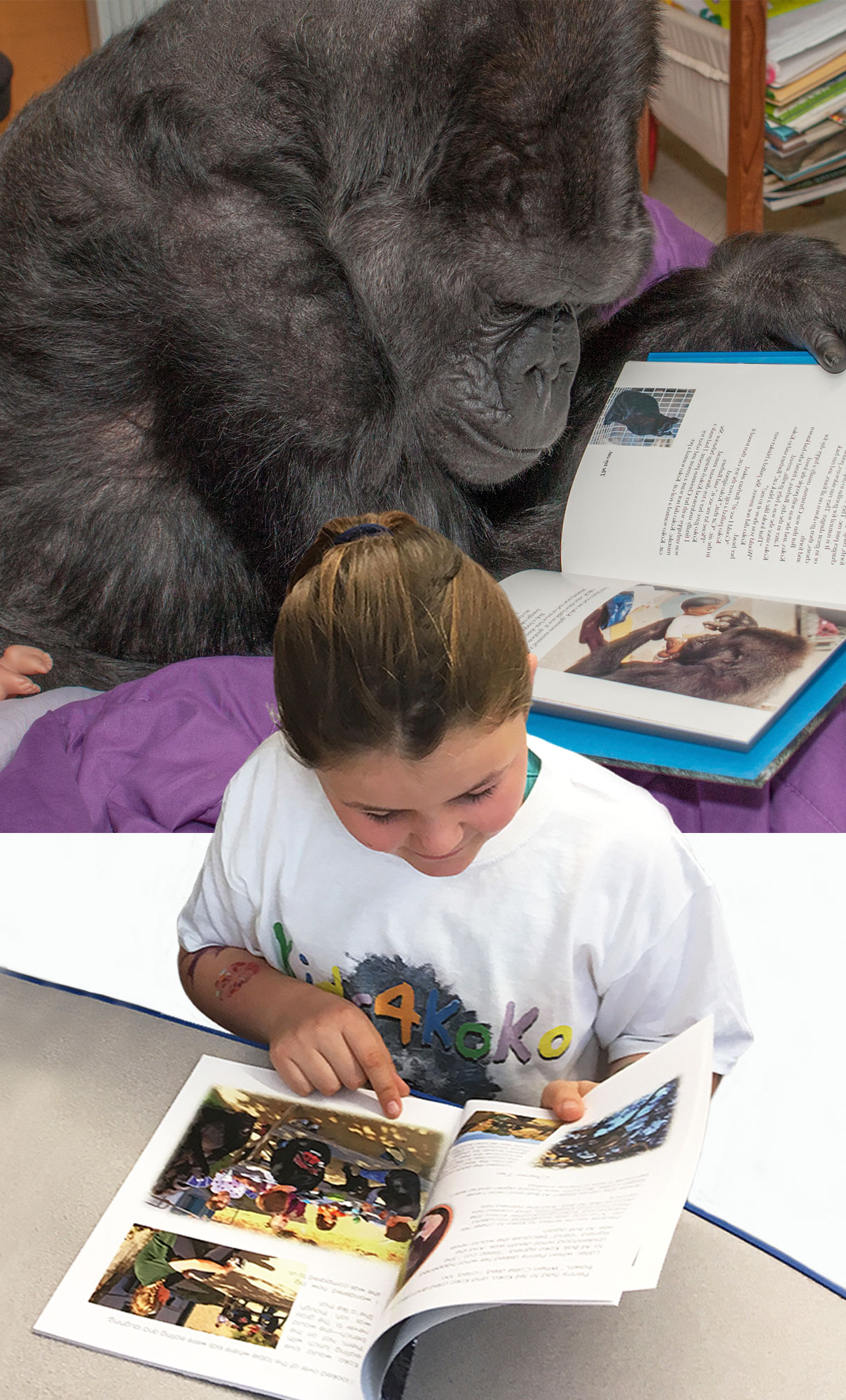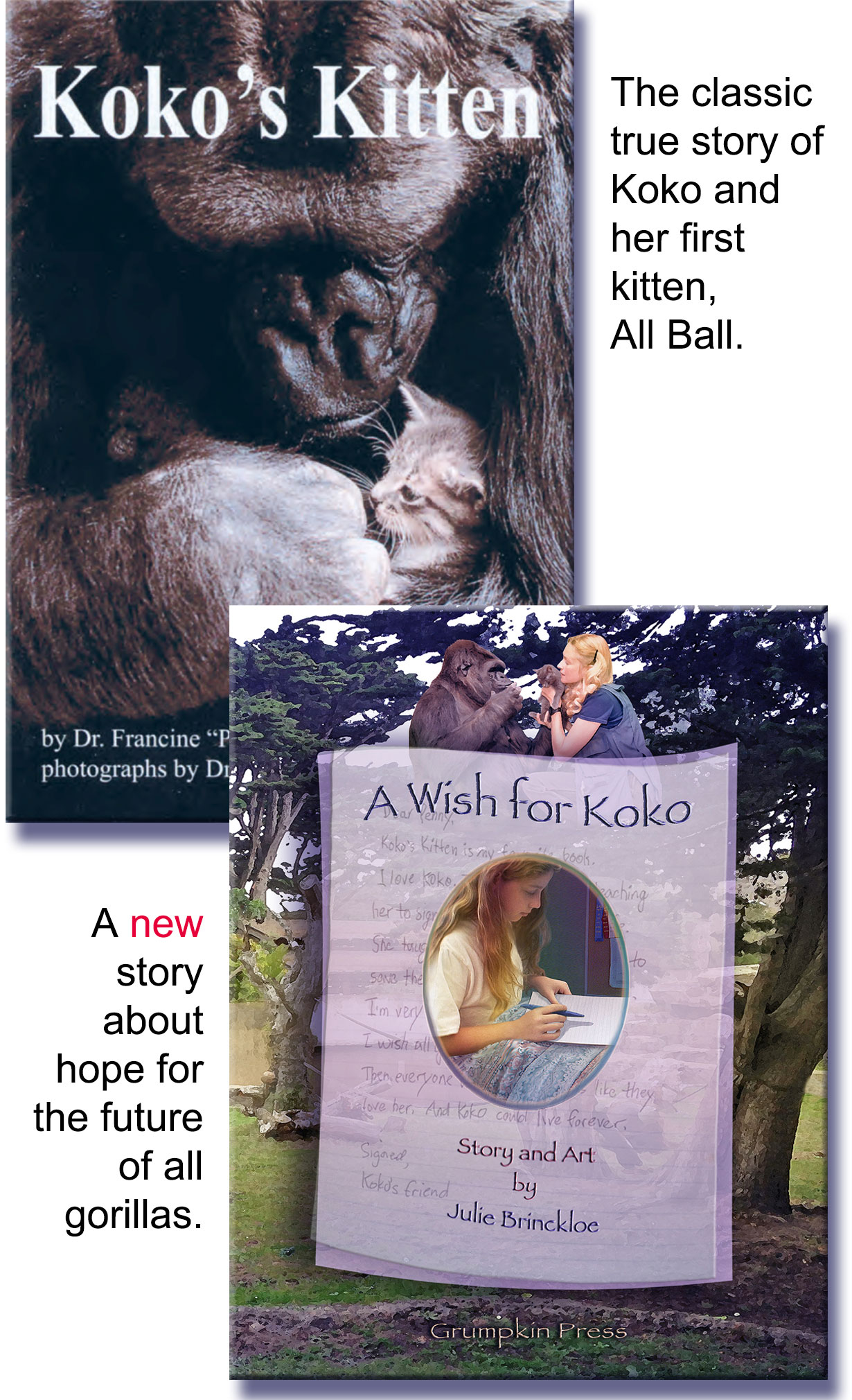 In this section, we're going to read the classic book Koko's Kitten, the new book, A Wish for Koko, and other books about Koko and her friends, one chapter at a time.  And we'll not only learn about Koko and what it's like to be a gorilla, we'll also learn to understand some of her signs along the way, through popup links to "Sign Like Koko" videos.
You can start reading the following books online now, and discuss with the Kids4Koko community by using the form on each page:
A Wish for Koko (featured)
by Julie Brinckloe
The heartwarming story of hope, about a young girl whose love for a gorilla named Koko became a call to action for the future of all gorillas, through her desire to communicate with them.
A Wish for Koko imagines a future in which all captive gorillas are allowed to learn sign language, like Koko, and interspecies communication—talking with great apes—becomes a pathway to protecting them and allowing them to flourish.
Koko's Kitten
by Drs. Penny Patterson and Ron Cohn
The true story of Koko the gorilla's relationship with her first kitten, All Ball.  It's a story of love and loss and hope and forgiveness, and you will get to know Koko through the extraordinary photos by Dr. Ron Cohn (Koko's father figure) and the amazing sign language conversations Koko has with Dr. Patterson.
Koko's Kitten has been read by millions of kids around the world and has changed countless hearts and minds about the true (loving) nature of a gorilla.  Now it's your turn to meet Koko.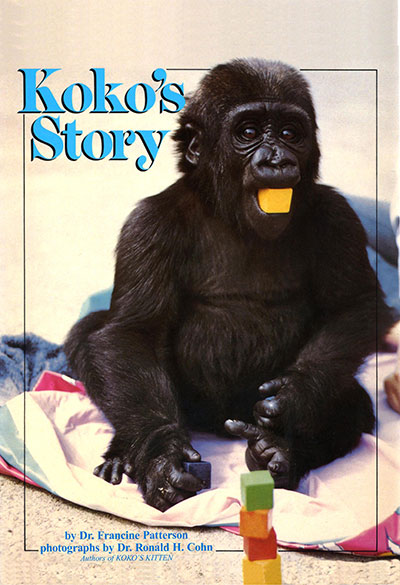 Koko's Story
by Drs. Francine "Penny" Patterson and Ron Cohn
The story of Koko's childhood, growing up at The Gorilla Foundation after being born at The San Francisco Zoo, and then raised, cared for and educated by Dr. Penny Patterson.
Read Koko's Story … coming soon …
Michael's Dream
Drs. Anthony Rose and Francine "Penny" Patterson
Photos by Dr. Ron Cohn (and Karl Ammann)
The story of Koko's foster brother, Michael, who, unlike Koko, was born in Africa before being transferred to a zoo, and finally to The Gorilla Foundation.  Like Koko, Michael learned to sign fluently and became an impressive artist.
But the most extraordinary thing Michael ever did was to tell us (in sign language) the horrific memory of losing his mother in Africa to poachers (see the video within the eBook).
The Education of Koko
by Dr. Francine "Penny" Patterson & Eugene Linden
A comprehensive memoir of the first 10 years of "Project Koko" from both personal and scientific perspectives, by the woman scientist who was the first to communicate with gorillas, conducted the longest-living interspecies communication study in history and created The Gorilla Foundation, a nonprofit dedicated to saving, learning from, and co-existing harmoniously with all gorillas.
The Kids4Koko Pledge
As a "Kid for Koko", you are the key to waking people up to the importance of treating other intelligent species and our planet with love and respect, and ensuring a brighter future for all.
If you agree, please sign the Kids4Koko Pledge and share with your friends.