Written and photographed by The Gorilla Foundation's founders — and Koko's primary caregivers — Drs. Francine (Penny) Patterson and Ron Cohn, respectively, in 1985, Koko's Kitten is the classic true-life story of a gorilla (Koko) who fell in love with a kitten. It has changed the way people look at gorillas forever.  Perhaps it will do the same for you.
(Note:  As you read, remember to click on Koko's sign words—in blue—to learn the sign.)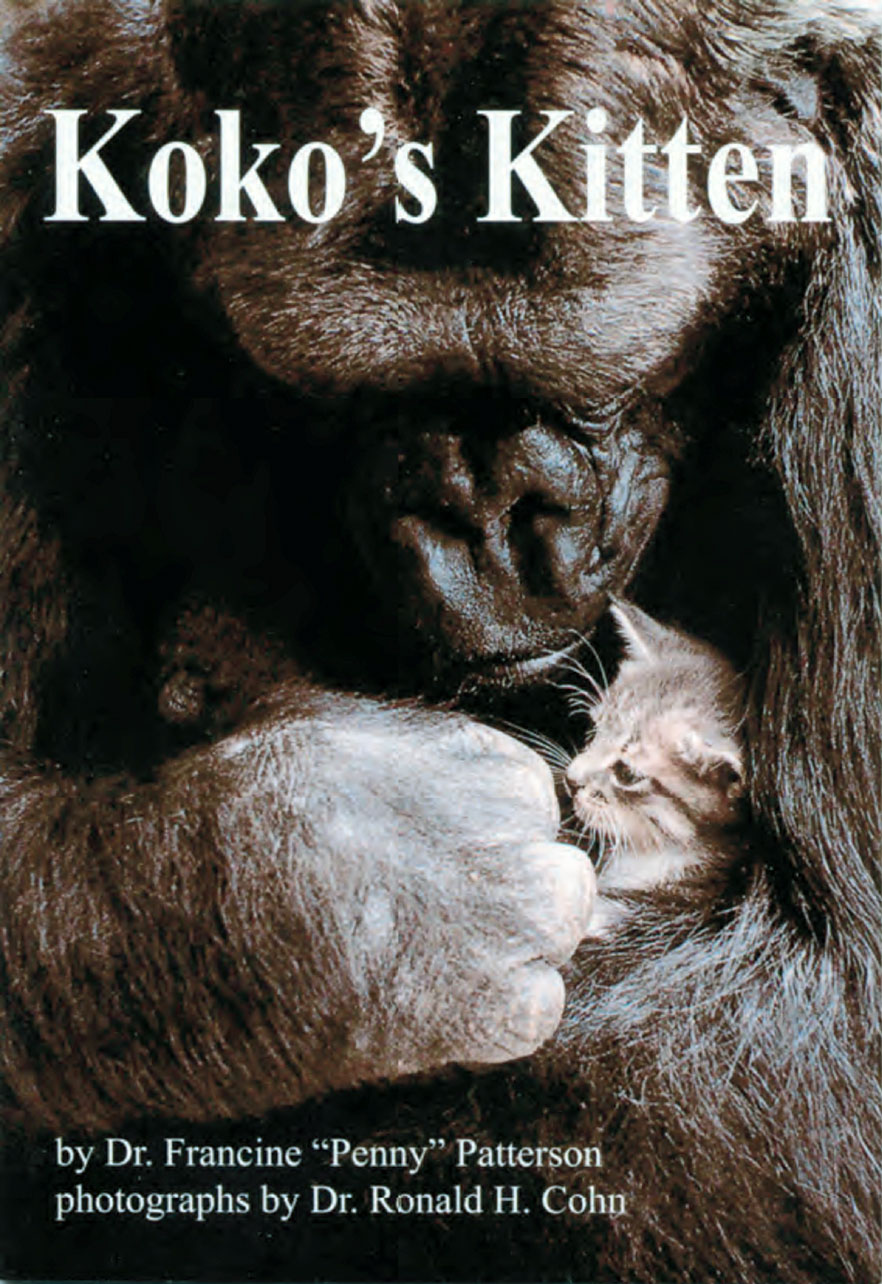 Preface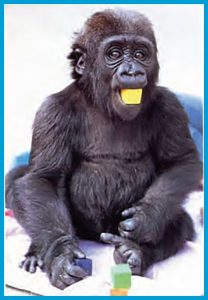 Other animals are capable of telling us about themselves
if we can find the right way to ask them. I met Koko in 1972 at the San Francisco Zoo when she was a year old. Six months earlier, Koko had become seriously ill and was removed from her gorilla group. She had recovered and was being cared for by volunteers in the Zoo nursery.  
A lecture in 1971 about a chimpanzee who learned how to communicate in American Sign Language—ASL for short—impressed me. As a developmental psychologist, I wanted to do that kind of work, too. So I asked the zoo director for permission to care for, and work with, Koko. When I told him I was willing to spend four or five years with her, he gave his consent. It was the first time a study of language abilities had been attempted with a gorilla. 
The project that began in 1972 became my life's work—and Koko's, too. As of 2000 Koko had learned (or invented) over one thousand signs and comprehended over 2,000 words of spoken English. 
She uses signs to name things in her environment, ask questions, tell how she feels, and title her drawings and paintings. Koko is able to communicate her opinions, and has a strong sense of who she is. In fact, when I asked Koko whether she was an animal or a person, she replied, "Fine person gorilla." There were many times that Koko surprised, enlightened and inspired me, but nothing prepared me for how Koko reacted when a small, grey, tailless kitten came to live with us. This is the story of Koko and her kitten, All Ball. It is a story in which a gorilla tells us about herself in a language that expresses love, anger, sorrow and joy—and in the process, inspires a new-found respect for all creatures.
_____________________________________________________________________________________________________________
Sadly, Koko passed away on June 18, 2018 at the age of 46—which is fairly old for a gorilla—and I and the rest of the world continue to miss her.  However, Koko's story, which is composed of many stories like the one you're about to read, make up a larger legacy.  She became an ambassador for her (endangered) species, a role model for ours, and a Voice of Nature.  It is now up to you, dear reader, to listen to Koko's message of love and share it with the world.  This is Koko's gift to us all.
The Kids4Koko Pledge
As a "Kid for Koko," you are the key to waking people up to the importance of treating other intelligent species and our planet with love and respect, and ensuring a brighter future for all.
If you agree, please sign the Kids4Koko Pledge and share with your friends.