Kittens should not be separated from their mothers until they are ar least six weeks old. Poor Ball was abandoned by his mother at birth, which might have accounted for some of his behavior.
Ball was an unusual cat. He was very aggressive. He would go up to people and bite them for no reason. He would bite Koko, too.
"Cat bite. Obnoxious," Koko signed, but she never struck back.
Koko did not like to be scratched or bitten, but she loved Ball in spite of his naughty behavior.
"Tell me a story about Ball," I said.
"Koko love Ball," she signed.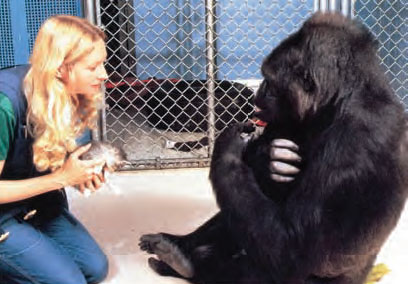 The Kids4Koko Pledge
As a "Kid for Koko", you are the key to waking people up to the importance of treating other intelligent species and our planet with love and respect, and ensuring a brighter future for all.
If you agree, please sign the Kids4Koko Pledge and share with your friends.