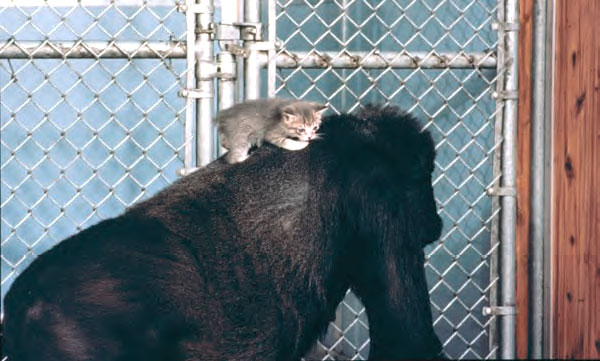 Koko treated Ball as if he were her baby.
The very first time she picked him up, she tried to tuck him in her thigh. That's where mother gorillas put their infants.
Older babies are carried on their mothers' backs. Koko tried this with Ball, too.
Koko was a good gorilla mother. She combed and petted Ball to keep him clean. She also examined his eyes, ears, and mouth to make sure he was healthy. It was Koko who discovered Ball's ear mites.
The Kids4Koko Pledge
As a "Kid for Koko", you are the key to waking people up to the importance of treating other intelligent species and our planet with love and respect, and ensuring a brighter future for all.
If you agree, please sign the Kids4Koko Pledge and share with your friends.