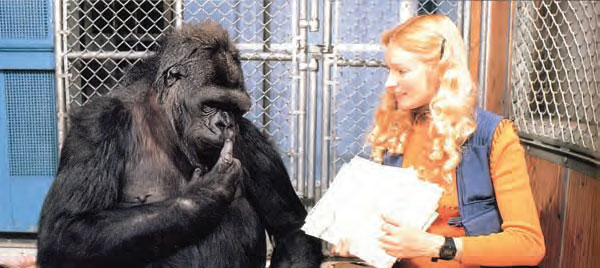 News of All Ball's death traveled quickly. We received thousands of letters. People of all ages wrote to us and expressed their sympathy. Some sent cards, others sent photographs, and many children created pictures. They all had one message: that Koko should have a new kitten.
As we approached Christmas, I wanted to get Koko a new kitten. I had no idea how difficult that would turn out to be.
On December 20, Barbara asked Koko, "What would you like for Christmas?"
"Cat cat tiger cat," was Koko's reply.
We heard of a Manx who was soon expecting a litter. We waited weeks until we discovered that the cat was just getting fat. Christmas came and went.

In January I showed Koko a picture of three kittens. One had a long tail, one had a short tail, and one was tailless.
"When you get another kitty, what kind would you like?" I asked.
"That," Koko signed as she pointed to the tailless cat.
"We'll get you a kitty like that," I said. "Is that okay?"
"Good. Nice," Koko answered.
"How do you feel about kitties?" I asked.
"Cat gorilla have visit," she signed. "Koko love."
Koko was ready for a new kitten if only I could find one.
More time went by. I called the Humane Society. They had no kittens at all—let alone a rare, taillessManx. I called many other places and was disappointed again and again. I was told that not many kittens were born during that time of year.
The worst part of this period was my feeling that I was letting Koko down. I'd watch as someone would ask Koko, "Where's your cat?"And she would look around almost as if she were doing a double take, as if she were looking for Ball.
The Kids4Koko Pledge
As a "Kid for Koko", you are the key to waking people up to the importance of treating other intelligent species and our planet with love and respect, and ensuring a brighter future for all.
If you agree, please sign the Kids4Koko Pledge and share with your friends.