On a foggy December morning, one of the assistants told me that Ball had been hit by a car.  He had died instantly.
I was shocked and unprepared. I didn't realize how attached I had grown to Ball, and I had no idea how the news would affect Koko. The kitten meant so much to her. He was Koko'sbaby.
I went to Koko at once. I told her that Ball had been hit by a car; she would not see him again.
Koko did not respond. I thought she didn't understand, so I left the trailer.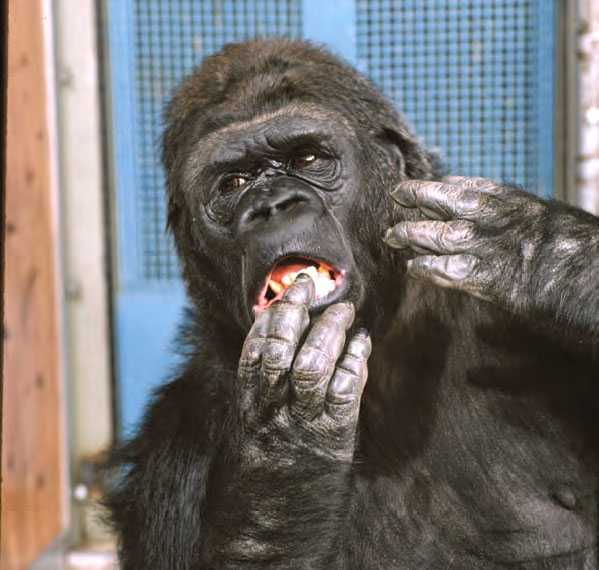 Ten minutes later, I heard Koko cry. It washer distress call—a loud, long series of high-pitched hoots.
I cried, too.
Three days later, Koko and I had a conversation about Ball.
"Do you want to talk about your kitty?" Iasked.
"Cry," Koko signed."
Can you tell me more about it?" I asked.
"Blind," she signed.
"We don't see him anymore, do we?
What happened to your kitty?" I asked.
"Sleep cat," Koko signed.
A few weeks later, Koko saw a picture of a gray tabby who looked very much like Ball. She pointed to the picture and signed, "Cry, sad, frown."
It was an unhappy time.
The Kids4Koko Pledge
As a "Kid for Koko", you are the key to waking people up to the importance of treating other intelligent species and our planet with love and respect, and ensuring a brighter future for all.
If you agree, please sign the Kids4Koko Pledge and share with your friends.