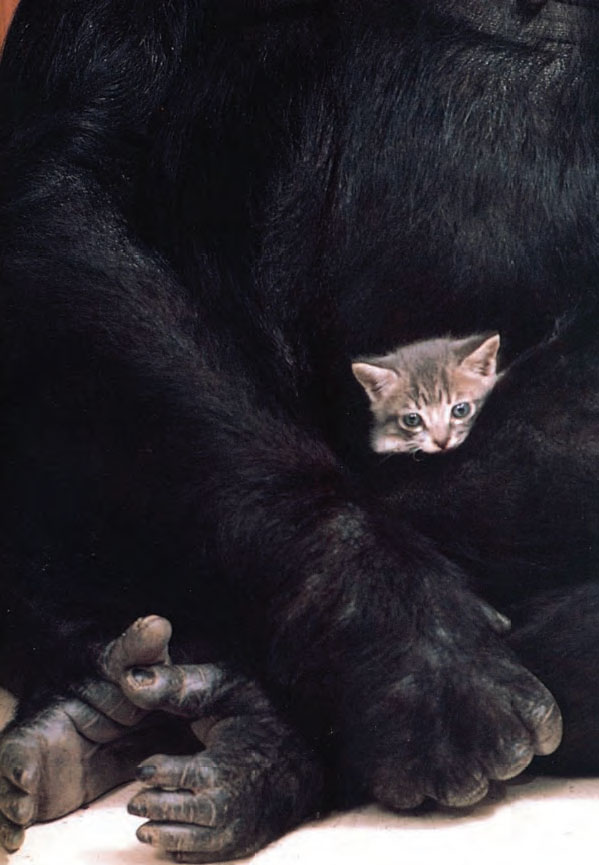 I am not sure why Koko picked the gray tabby as her favorite. I never asked her. Perhaps it was because he didn't have a tail—a gorilla has no tail.
That night, all three kittens went home with Karen. Two days later, the kittens came back for another visit. Koko was happy to see them.
"Visit love tiger cat," Koko signed.
First she picked up the gray and white one. Then Koko took the tailless tabby and carried him on her thigh.After a while, she pushed him up onto the back of her neck.
"Baby," Koko signed.
She cradled the tabby in her legs and examined its paws. Koko squeezed, and the tabby's claws came out.
"Cat do scratch," Koko signed. "Koko love."
"What will you name the kitty?" I asked.
"All Ball," Koko signed.
"Yes," I said, "like a ball, he has no tail."
Ball stayed overnight as a visiting kitten. By the end of the week, Ball was a permanent member of our household.
Koko had her kitten at last.
The Kids4Koko Pledge
As a "Kid for Koko", you are the key to waking people up to the importance of treating other intelligent species and our planet with love and respect, and ensuring a brighter future for all.
If you agree, please sign the Kids4Koko Pledge and share with your friends.